Mystery Employee For Sept. 2017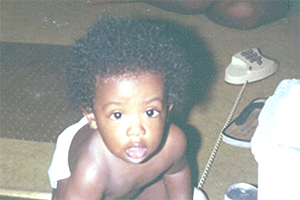 What do people call you (i.e. nicknames)?
My childhoodl nickname is "Bird". My family still calls me that.
What do you like to do away from work (i.e. hobbies)?
Spend time with friends and family, anything with my boys, we play basketball constantly, Playstation and dominoes! I don't let them win! When they win, they have to earn it.
What is your most memorable moment in your life to date?
The birth of my children. That was undoubtedly the best (and scariest) day of my life!
Who do you most admire?
My dad. He is a hard-working man and has been for my entire life. No matter how old you get, you always need/want your parents. As I get older, I am reminded how blessed I am to still have them, and how blessed my children are to have their mother and I (and our family) so involved in their lives. It is not that way for so many children.
What teacher made the greatest impact on your life and why?
I have had several great teachers, but my mentor Sociology professor had a huge impact on me (Dr. Perez). He was very real, down to earth and caring and was the first person to ever get me to pause and really focus on the social injustice/inequity that has plagued our society in many ways. Being in his class was like Game of Thrones, you never wanted to miss it!
What is the most unique job you've held (outside SBCSS)?
I've had a couple, janitor, floor guard at a skating rink and cashier at a Christian book store.
How long have you worked for SBCSS?
Since July of 2005
What is the most unusual part of your job at SBCSS?
I think one of the most unusual aspects of my job is that in a typical day, I can be dealing with various programs. I can start my day off in the moring in Juvenile Hall and end it on a elementary school campus.
How does your job connect to students?
My job connects to students in many ways, from funding (Title I & LCAP, to assessment and curriculum). Its different from being in the classroom as a teacher, but I still believe that my efforts are reaching the students (just in a different way now).
Employee Connection will award a gift certificate to one employee randomly selected from all correct guesses. For the most recent contest, there were two correct guesses of Angela Lopez of the Children Deserve Success program for homeless education students. The winner of the drawing for the gift card is Doreen Moore of Technology JPA.