Teacher Spotlight for May '19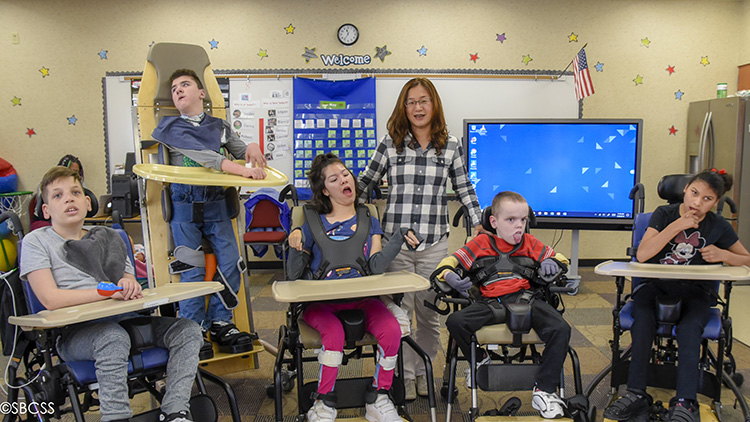 Teacher name: Effie Chen.
Location: Melva Davis Academy of Excellence in Adelanto for Desert/Mountain Operations.
Number of years teaching: 5 years.
What made you decide to be a teacher: I was inspired by a couple of good teachers in my childhood, so I chose teaching as my profession. I wanted to be a teacher who understands students' needs, equips students with adequate competent, and inspires them to fulfill their life dreams.
Teaching philosophy: Every student could be taught, just in different ways.
Describe what takes place in your classroom or location: My classroom is a severe/profound middle school class with medically fragile and non-verbal students. We utilize various equipment to accommodate students' physical needs and apply unique communication devices to engage them in classroom activities.
Our students love to attend school! They enjoy interacting with adults and peers and make significant progress in this safe, fun, and productive environment.
Most valuable contribution to students: My most valuable contribution to my students is to understand their individual needs and also see potentials beyond their limitations. I successfully apply technology to increase engagement and make my teaching more functional and meaningful for my students.
What have your students taught you: I have seen amazing progress of my students, and I firmly believe that with appropriate strategies and tools, students can improve no matter what disabilities they have.
There is no limitation on an individual's development, but a limitation on the educators' mentality. My students have taught me not to give up, think big, and keep trying and trying. One day I will go through all the difficulties and make my life goal happen, just like what they showed me.